Dongguan, China, July 24, 2013/J.D. Leather Goods/ — Dongguan J.D. Leather Goods welcomed a guest from Australia, P.G. Accessories' managing director, Steve (The second one on the left side in the picture as below). He was looking for a belts supplier or factory in China. He knew us through the internet and be interested in our belt factory. We had a pleasant communication and Steve selected many suitable belts samples from J.D. Leather Goods.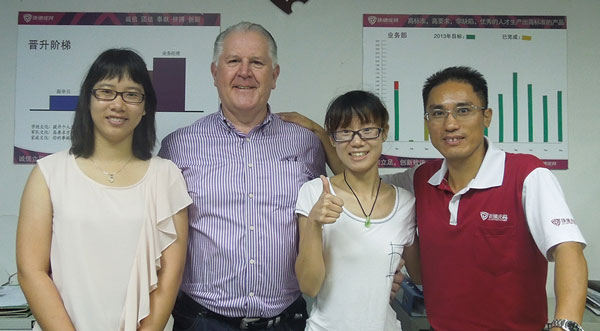 J.D. Leather Goods' general manager, Daniel (most the right side of the picture) and manager assistance, Ivy (The second on the right side of the picture) went to pick up him to our factory in Guangzhou at 9:00 am. They arrived at the factory around 10:30 am.
First, we visited the sample rooms and Steve saw a lot of our belts. Then we had a meeting in the meeting room. We introduced ourselves to each other. P.G. Accessories is a large wholesale company of ladies' bags in Australia. They plan to do business of belts this year, and want to find a belt factory in China. We are a leading belt manufacturer in China, and meet their needs. We talked about the production line, the sample delivery and the product delivery etc. Then we visited the production line together. After that, Steve selected some samples, and we would quote price for him. Finally, he was going to Hong Kong with Virginia, the manager of their Hong Kong office.
If you want to know more about J.D. Leather Goods, please visit the belt factory's profile page, or want to contact us, you can send an email to our business assistance, Ivy, and her email address is sales@chinajdleather.com. Also, you could visit the contact page to get more