Dongguan, China, August 21, 2013/J.D. Leather Goods/ — Dongguan J.D. Leather Goods is a leading leather belt manufacturer in China, in order to improve the management level, we held this training. The topic of this training is meticulous management and system building. All of J.D. Leather Goods' department has attend this meeting in the evening. Our goal is to reduce costs, living up potential and work collaboratively.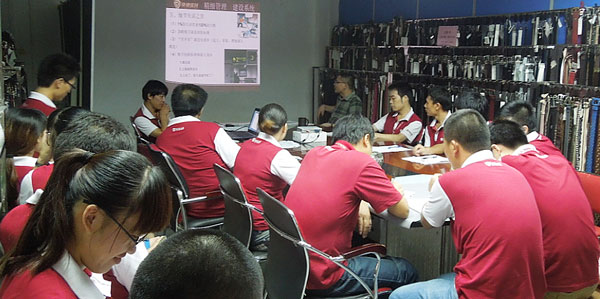 The first topic: The living environment, and management is the key point of products.
1. The price of materials is up to materials' suppliers, including changes in your marketplace.
2. Product price and sales is decided by the guests.
3. Management of competition is the only living space of factories.
The second topic: The employees are difficult to manage.
1. The matter of pride.
2. Getting along with the superiors.
3. Getting alone with the junior employees.
The third topic: The competition changes the environment
1. The competition brought monopoly.
2. The profit close to zero.
3. The market requirement is enhanced day after day.
4. The products are of high homogeneity.
5. The businesses' service is much more user friendly.
6. The coming of the era of fine management, to improve competitiveness.
The fourth topic: The reason of the fine management is ignored
The fifth topic: The harmful effects of inattention to details.
The sixth topic: The importance of detail management.
Every employees of J.D. Leather Goods are responsible for our belt manufacturer, we should build system and do fine management together.
If you want to know more about J.D. Leather Goods, welcome to visit our belt manufacturer's news, or want to contact us, you can send an email to our business assistance, Ivy, and her email address is sales@jdleathergoods.com. Also, you could visit the contact page to get more contact information.