Tom Ford's animal print with matching jacket / skirt highlight the modern retro, Simone Rosa's retro DB pure black horsehide and shearing fur.Paula Aksu and David Koma's two pieces short dress shows a modern temperament, it is made by smooth fur , highlighting the elegant lady style.
London pop Trends #1 - bright bright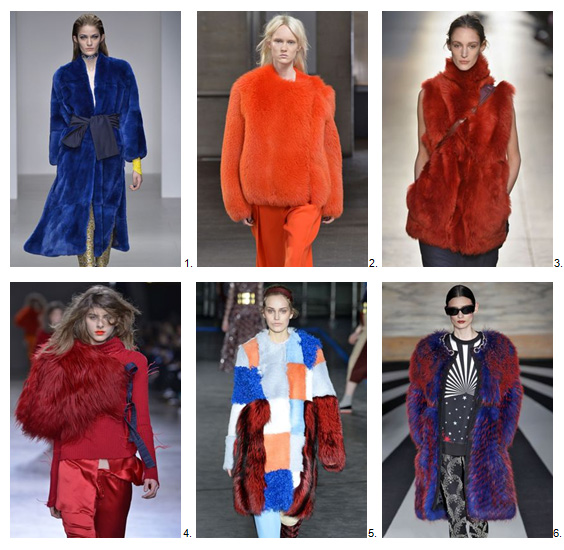 The most strong trend appeared in London Fashion Show T Stage is is bright color, can be used alone, but also match other bold bright colors to create colorful effect. Osman and Princeton use eye-catching color to create blue cardigan, coat and orange collarless DB-shirt, Paul Smith and Marquis Almeida use bright red fur to develop turtle neck vest and burrs cloak.Roksanda Ilincic mixed multicolor fur and patch design, Matthew Williamson selected loose silhouette of bright purple fox fur and dyed bright red to create psychedelic color effects.
London Popular Trend # 2 - Teddy Bear Fur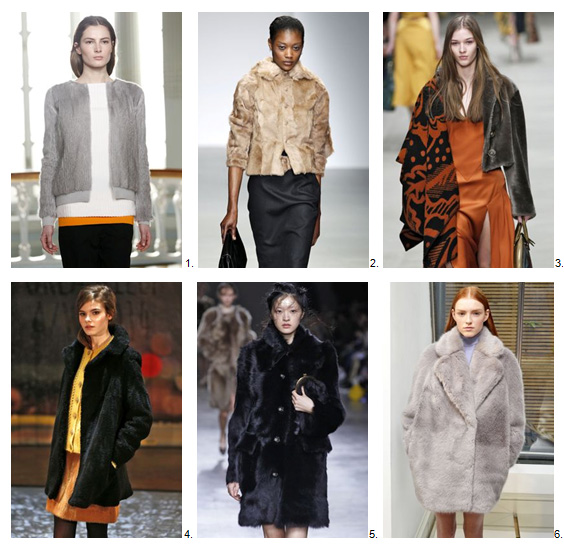 Soft long hair make people think of teddy bear or other reminiscent of plush toys, in this season's London Fashion Show T station, it announces a bold declaration, expressing nostalgia, recalling the gentle and comfortable childhood.Pringle uses light gray knitted fur match with a modern style cardigan, both soft and comfortable ; Daks and Burberry then choose the color of teddy bear soft fur, build a small short and sweet models tops.The long coat designed by Orla Kiely and Simone Rocha uses pure black soft fur; Whistles's boyfriend coat selects long-haired fur , expresss a warm and comfortable sense.
Popular Trend of London #3 - Modern vest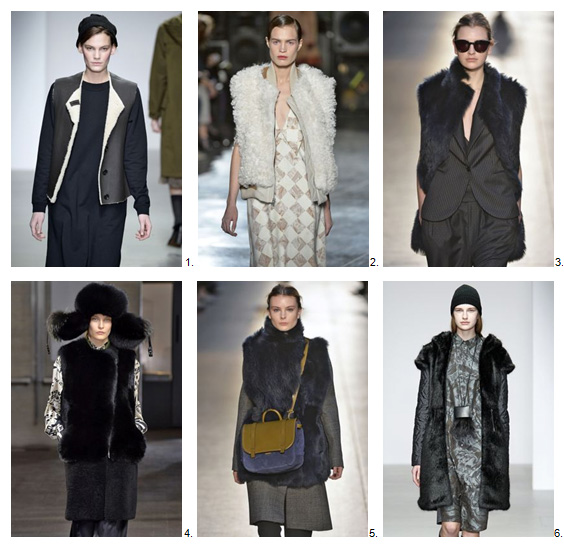 The next winter, fur vests upcoming comeback - this style has been emergenced in New York, London Fashion Week will also be followed.Margaret Howell's menswear inspiration design, Jonathan Saunders's motion flight jacket style and Paul Smith's suit with a custom mix of fur vest are this season New highlights.Long section of Princeton DB style vest, use coat material frill, modern style increases, Christopher Raeburn cape-style shoulder design with nylon sleeve lining clip, creating the effect of imitation vest coat, distribute luxury sporty temperament.
London Popular Trend # 4 - breasted coat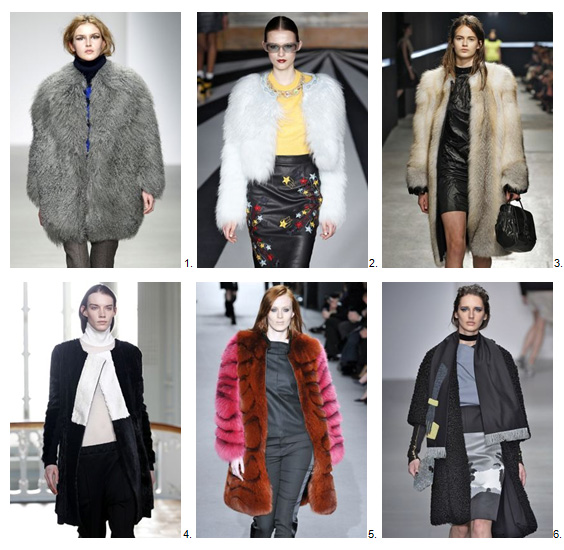 Simple and easy breasted jacket is the next Winter and London T station's flagship single product, it is used in a variety of imaginable style.Eudon Choi volume using iron gray lambskin fur shape to create fullness, Matthew Williamson using beautiful white loose fur to create a short paragraph coat and decorated with trim, Christopher Kane's long coat is in contrast with nylon cuff detail.Pringle using white black and white graphic design, build a streamlined knitted fur coat.Tom Ford bold use of contrasting color, with a large animal print stripes of bright spots.Osman is showing the new retro style, with Russia lamp nappa to build boot-cut knee-length coat, and use the same color cuff.
London fashion trends #5 - Curly lamb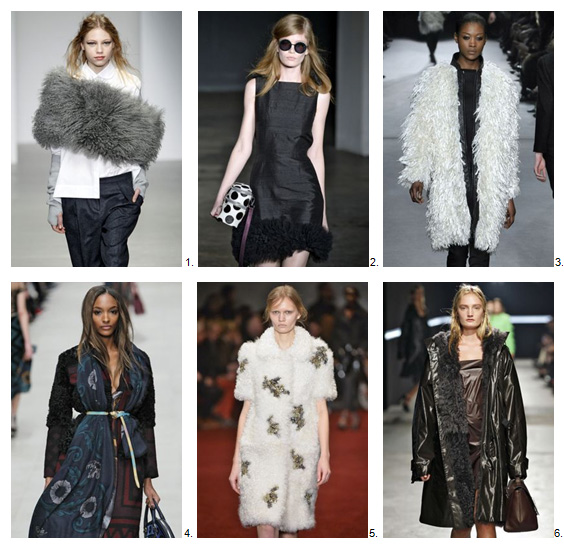 Curly texture of lamb's charm bring London show a huge impact, and designers transformed them into a variety of possible styles. Eudon Choi and House of Holland uses Mongolian lamb to make luxury accessories, the former using gray lambskin to increase casual luxury temperament, and the latter increase more textured black skirt trim detail.
London fashion trends #6 - sports pullovers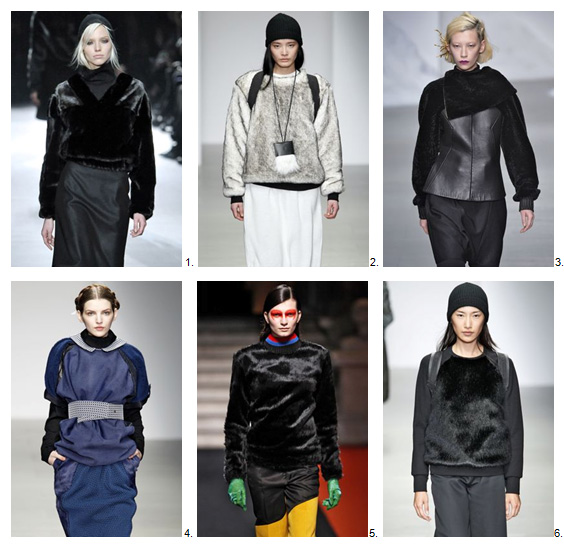 This season fur pullovers has become the flagship of a single men and women product. Appearing at London Fashion Week next winter season, more sporty style, casual modern luxury texture increases. Tom Ford's V-neck style and Simongao's asymmetrical zipper cloak display avant-garde features, Christopher Rayburn's two color long-haired fur and pure black color fur design is outstanding traditional sportswear style. Paula Aksu (Bora Aksu) Classic Raglan fur transformed into a more minimalist style Puff with Peter Pan collar, Thomas Tate (Thomas Tait) was long-haired fake collar striped pullover increase , highlighting the elegance and luster charm.
London fashion trends #7 - patterned fur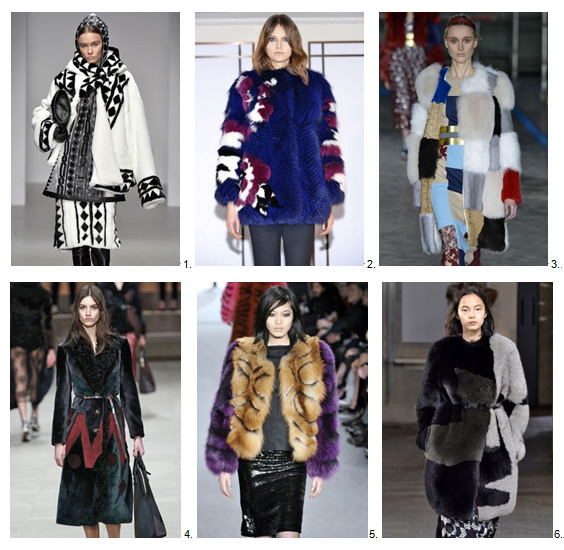 In addition to bright light, the bold pattern on the whole fur in London Fashion Week T stage has become a another emerging trend. KTZ maintain their pattern style, to create contrasting colors of black and white design, and Huishan Zhang and Roksanda Ilincic's DB colorful flower mix and match tops and fur patch jackets like a bold declaration. Burberry and Preen using massive of more abstract patterns, shearing fur create slender silhouette and new knee DB jacket. Tom Ford using pressure line tactics for color loose clothing to the oversized two-color animal print, distribute eye-catching and unique appeal.
London fashion trends #8 - piece of fur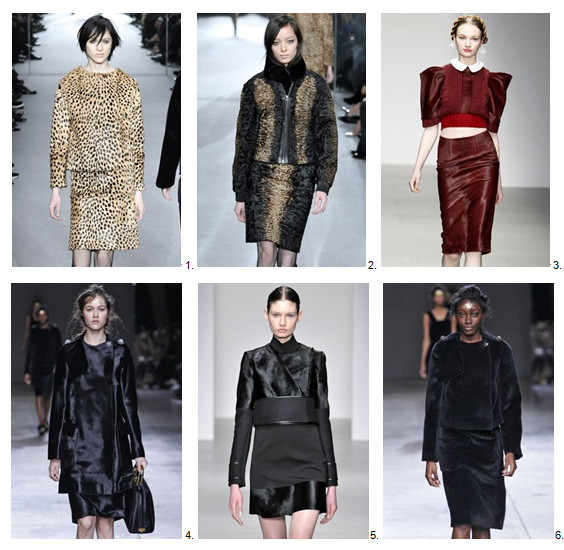 The first inkling of independent fur fashion trend has been offered in the last year's fashion show, but the highlight of next winter is fur coat with matching downloading in order to create two-piece effect. Tom Ford's animal print with matching jacket / skirt highlight modern retro, Simone Rocha's retro DB two-piece are use pure black horsehide and shearing fur. Bora Aksu and David Koma's short paragraph ratio given them a piece of modern temperament, matching each other's shirt / skirt uses smooth fur, highlighting the excellent elegant female style.