Dongguan, China, July 31, 2013/J.D. Leather Goods/ — Dongguan J.D. Leather Goods is a leading leather belt manufacturer in China, in order to improve the management level, we held this meeting. The topic of this meeting is reducing costs, developing potential and collaboration. All of J.D. Leather Goods' department has attend this meeting in the evening.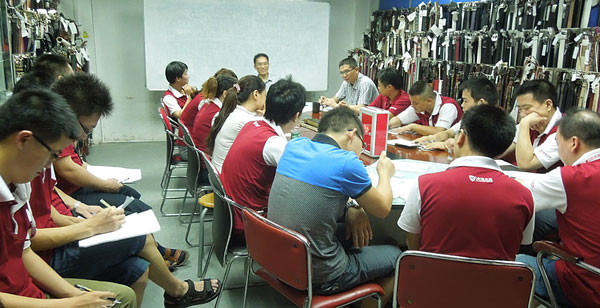 The above picture shows that company's all departments are holding a meeting in evening of July 31, 2013. The purpose of this meeting is to maintain a good communication between the various departments though gathering company's all departments, then producing more high quality belts, servicing better .The leader of every department need to report their work-content to others, the reporting contents as follows:
1. What is the main contents of your department's work?
2. How do you work of your department's main contains?
3. What is the excellent process of your department work at the present?
4. What is the part of your work needed to improve?
5. What is the requirements of the other departments?
6. What is the difficulty of the present work?
7. What is the need of cooperating with the other departments?
8. How do you plan the future work?
J.D. Leather Goods is always committed to improve the company's management according to the market's development, customer's requirements and product's characteristics. The belt belongs to a accessory product of clothing, It is a small branch, but it plays a important role of a persons' whole image, especially European market has always maintained to steady growth for the demand of the belt, also to increase highly for the quality requirements,the service of J.D. is also still the high-end brand of European and American market.