J.D. Leather Goods is a leading belt manufacturer in China. We passed the ISO9001:2008 Certification Audit on September 11, 2013 and obtained the ISO9001:2008 Certificate on September 30, 2013.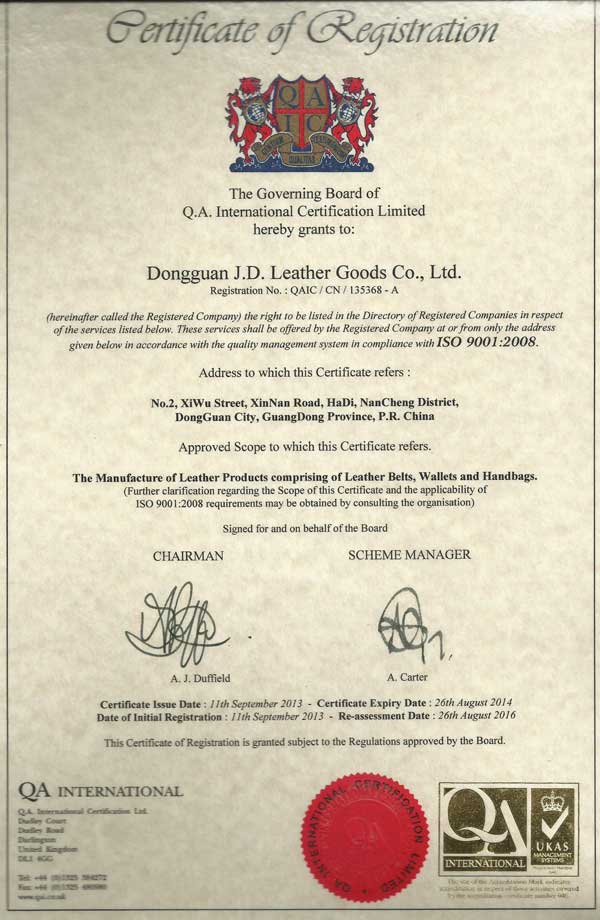 Now the J.D. Leather Goods is strictly implementing the ISO9001:2008 in every detail, including production process, forms, etc. Along with the understanding and studying of ISO9001:2008 of each department, the management level and productivity effect is consistently improving. On August 26, 2013, the UKAS certification experts start the one-day initial certification audit for our company's ISO9001:2008 international quality management system. Through strict examination the content of each item, the belt manufacturer eventually passed the external audit to obtain ISO9001 certification of qualifications.
Passed the ISO9001 certification is not only the recognition of the quality system at the belt manufacturer, but also the recognition of the manufacturer employee's hard working. Every employee wants to produce high quality products, and we believe the ISO international quality management system is the only way to achieve the goal. J.D. Leather Goods will be continuous perseverance to produce best products, whether belt or wallet, or other leather products, we will be honesty and keep highest professional standard to service every new and old customer, in order to become the best belt manufacturer.