Mr. Jose and Mrs. Fine (alternative name), who design for belt and wallet of Gap, visited J.D. Leather Goods factory on May 11, 2017. Mr. Mark warmly received them.
The gap is a retail clothing famous brand in the USA. and sales around the world. On December 13th,2016, a broker name is Yanyi found us in our website for Gap belts and wallets development. Then he introduced us to Mr. Jose and Mrs. Fine.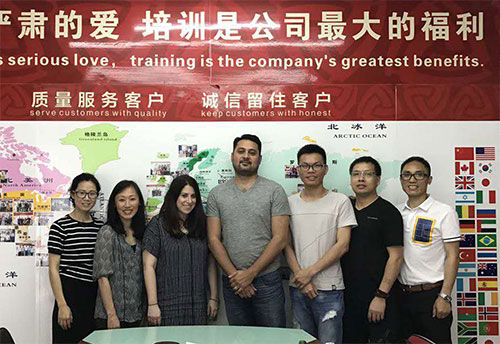 ?
Before visiting our factory, they received our belt and wallet samples and expressed satisfaction with them. In this time, they visited our factory for discussing how to develop 20+ types of belt and wallet. Mr. Mark shows them our workshop and sample room And Manager Luo, who is in charge of J.D. Leather Goods, expounded the craft of belt and wallet to them.
In the whole process, Mr. Jose and Mrs. Fine felt relaxed and excited, they were satisfied with our warm hospitality and craft.as well as said they would cooperate with us next step.